304 stainless steel has strong corrosion resistance-the difference between stainless steel material series is mainly manifested in the different elements contained. The corrosion resistance and stamping performance of 304 stainless steel are far better than other models, and 304 stainless steel is generally used in places where the environment is complex and requires strong corrosion resistance, and 201 is used for places where the environmental requirements are not very high, or the requirements for stainless steel materials Not high place.
304 stainless steel has better toughness-201 stainless steel is harder, with a bit of rigidity, and is easier to crack. The 304 stainless steel vacuum flask contains nickel, so it does not rust, and 304 stainless steel is more tough and has much better fatigue resistance than 201.
304 stainless steel is not easy to rust-while the vacuum cup made of 304 stainless steel contains more chromium, the surface is matte and does not rust. When choosing a stainless steel vacuum flask, it is obvious that the two cups are put together and compared.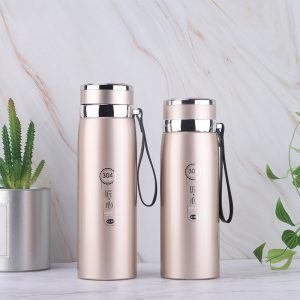 The 304 stainless steel vacuum flask is not easy to rust because the chromium-rich oxide formed on the surface of the steel body can protect the steel body, so as to achieve the effect of healthy drinking. In the early days of the founding of New China, there was no concept of a vacuum flask in China. At that time, there were only concepts such as kettles and water cups. At that time, the kettles were all made of aluminum alloy. When it comes to casting industry, we must understand that the difference between aluminum alloy casting and forging is still very big. With the progress of the times, this primitive craft for casting kettles and cups was slowly eliminated, and later evolved into plastic kettles, iron kettles, vacuum flasks, etc. Until today, the 304 stainless steel vacuum flask is recognized by the majority of consumers.