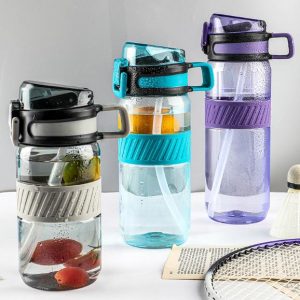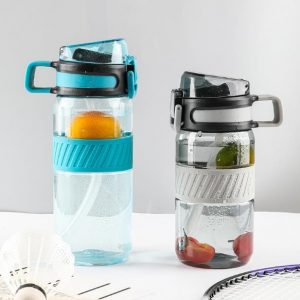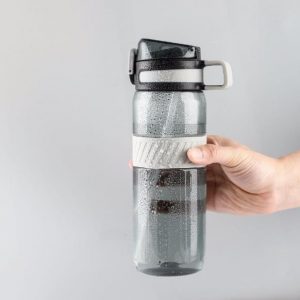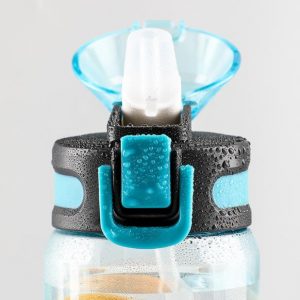 Material: PC+PP+silicone
Size: 7.5*18.3cm, 7.5*20.4cm, 7.5*24.3cm
Capacity: 500ml, 600ml, 800ml
Color: blue, purple, red, gray
The cup has good airtightness, silicone sealing ring, multiple protection, no water leakage when inverted, and it can be placed at will. Carrying loop design, holding hands without restraint, easy to use. The anti-scalding ring made of silicone material is not hot to hold. Large-caliber design, easy to clean.
What are the advantages of the water bottle with straw?
Easy to use: Use a water bottle with strawto drink water for your baby. The amount of water in each mouthful is controlled at a certain amount, and the baby drinks water by sucking, which can effectively prevent the baby from choking due to drinking too much water too quickly.
Interesting shape: Judging from the collection of pictures of water bottles with straw, the color of water bottles with strawis richer and the shape is interesting, which can be attractive to babies, so that babies who don't like drinking water can drink more water.
How to choose a water bottle with straw?
Choose a sterilizable water bottle with straw
Infants and young children have low immunity. Since it is a cup for babies, you must pay attention to the cleaning and disinfection of the water bottle with straw. The current water bottles with straw are almost exclusively made of space glass, PC non-toxic plastic, to ensure high temperature resistance and resistance to beating. In terms of this feature, parents don't have to worry about the baby's ability to break it and hurt themselves. However, not all cups can be sterilized. Be sure to read it clearly when buying. There must be a note on the outer box: whether it can be machine washed or sterilized.
Check whether there are scales and handles when choosing a water bottle with straw
The choice of water bottles with straw according to the principle of whether there is a scale is mainly based on the actual needs of the parents. For example, sometimes the cup is used to soak milk powder, or the baby needs to control the amount of water that the baby drinks. At this time, the scale is naturally a must for the water bottle with straw.
Some water bottles with straw have handles, and some cups are not equipped with handles because they are made into a shape that is convenient for babies to hold. Some brands use handles as optional accessories. Parents can choose the right water bottle with straw according to the baby's preferences.