Can the thermos cup be used if it has rust spots? This question is very good. Whether the thermos cup is rusty or not can be divided into two situations: one is the rust of the inner liner of the thermos, and the other is the rust of the mouth, bottom or outer shell of the thermos cup. If the inner tank is rusty, then this kind of cup must not be used; if it is the second case, it can still be used for a short time, but it is better to replace it. Everyone knows that the vacuum flask is made of stainless steel, why does it still rust?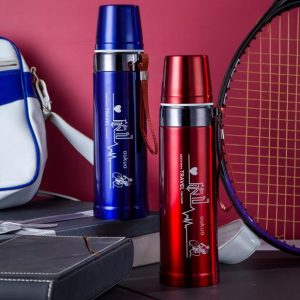 Why does the thermos cup rust?
Rust on the inner pot of the thermos: Rust on the inner pot can directly determine that the cup you bought does not meet the national standard, which means that the material of the cup you bought is fake. Because the inner liner of the thermos cup produced in accordance with the national standard will not rust unless you use the thermos cup to fill the acid liquid.
Rust on the mouth, bottom or shell of the thermos: This phenomenon can be said to happen frequently, because the outer shell of the thermos is made of 201 stainless steel, and it is easy to rust when it comes into contact with acidic liquid or salt water. Because 201 stainless steel is easy to rust and has poor corrosion resistance, the cost is relatively low. As long as the cheap products on the market are insulated cups made of liner 304 and shell 201.
Tips for buying a vacuum flask
It is to see whether there is sus304 or 18/8 and sus316 on the inside of the thermos flask. If so, see the next step; the second is to see the manual, whether the manufacturer, origin and other information are indicated; the third is the certificate; the fourth A cup with no buzzing sound on the interlayer is not a thermos cup. Put the thermos cup on your ears, and there is no humming sound inside the thermos cup, which means that this cup is not a thermos cup at all, so such a cup will definitely not be insulated. As long as these four points are met, you can buy it, at least you can ensure that the inner tank will not rust and you can drink water healthily.