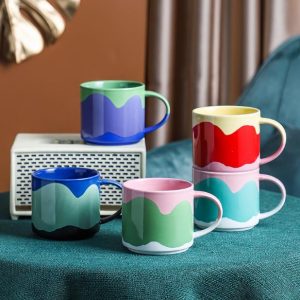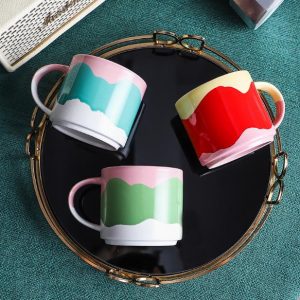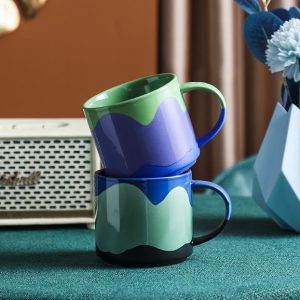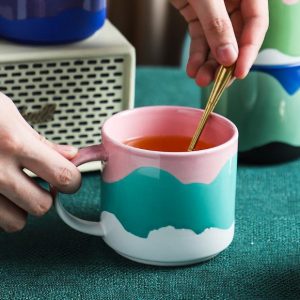 Material: Ceramic
Capacity: 440ml
Size: 13.6*8.8cm
Color: pink green white, yellow red pink, blue green black, green blue, pink green white
Made of ceramic material, the surface is bright and easy to clean. Three-color collocation, bright and eye-catching, high-value, suitable for various decoration styles, and a variety of types of equipment to worry-free collocation. The bottom of the mug is not glazed, and the anti-slip effect is good.
Quality judgment
Look. When we get a mug, we must first look at its appearance and its texture. A good mug has a smooth glaze, uniform color, and no deformation at the mouth. Then it depends on whether the handle of the cup is installed upright. If it is skewed, it means that the cup is a defective product, and the place where it is connected to the cup body cannot be shrunk. If it does, it means that the workmanship of the cup is not fine enough. We can also point the cup at the sun. A good mug should have a certain degree of light transmission.
Listen. To listen to the sound of a mug, we can flick the body of the mug with our fingers. A good mug will make a crisp clinking sound. If the sound is not clear, you can judge that the mug is made of mixed materials. Similarly, we need to listen to the sound at the junction of the lid and the cup body. If the sound is clear and has a small echo, it means the quality of the cup is good.
Touch. You should touch the cup with your hands to feel whether the cup is smooth, without pinholes, or flaws, indicating that the cup is of good quality. Also pay attention to the bottom of the cup without sticking due to improper operation of the glaze process.
The above are three simple ways to distinguish the quality of a mug. If you are a person who pursues personality, you can continue to customize your own personalized mug after choosing the mug.