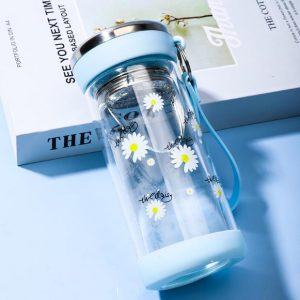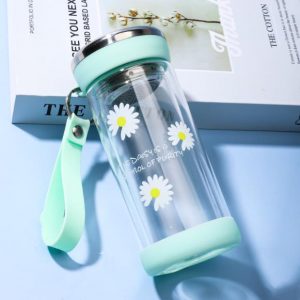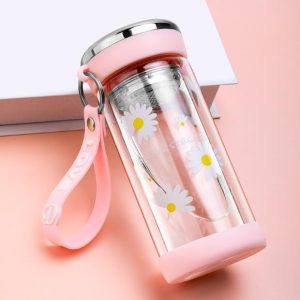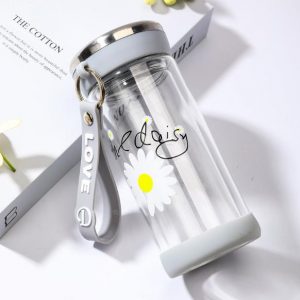 Material: double borosilicate glass
Capacity: 280ml,320ml
Color: pink, green, blue, gray
Pattern: Little Daisy
The cup body is made of high borosilicate heat-resistant glass, which can withstand the sudden cold and sudden temperature difference without bursting. In addition, the double-layer glass design ensures healthy drinking and protects against scalding hands. The mirror cup lid is as bright as a mirror. The cup lid is equipped with a silicone sealing ring, and the cup mouth is designed with a leak-proof silicone plug to seal and prevent leakage. The soft silicone handle makes it easy to carry around.
Advantages of glass water bottle
The glass material has good barrier properties, which can prevent oxygen and other gases from attacking the contents, and at the same time, prevent the volatile components of the contents from volatilizing into the atmosphere;
The glass bottle can be used repeatedly, which can reduce the packaging cost;
The color and transparency of glass can be changed easily;
The glass bottle is safe and hygienic, has good corrosion resistance and acid corrosion resistance, and is suitable for packaging acidic substances (such as vegetable juice drinks, etc.);
In addition, because glass bottles are suitable for the production of automatic filling production lines, the development of domestic glass bottle automatic filling technology and equipment is relatively mature, and the use of glass bottles to package fruit and vegetable juice beverages has certain production advantages in China.