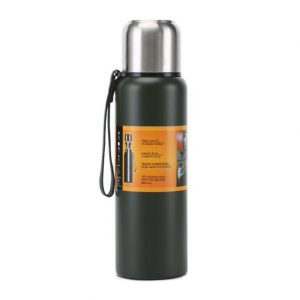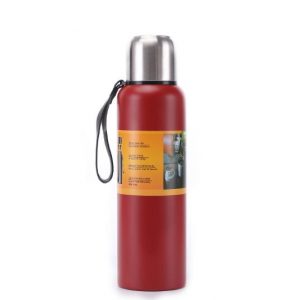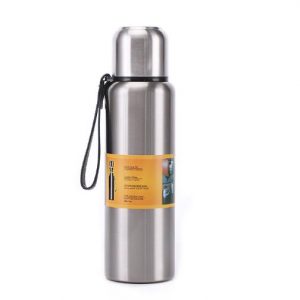 Material: 304 stainless steel
Capacity: 500ml, 800ml, 1000ml, 1500ml
Size: 7*25cm, 8*27.5cm, 8.5*29.5cm, 9*34cm
Color: red, steel color, black, army green
Scope of application: daily, outdoor, cycling, climbing, sports, etc.
The smooth and round mouth of the cup is finely polished to make it smooth and easy to twist. 304 stainless steel tea drain, tight filter, separation of tea and water, easy to drink. The outer cup cover can be used as a cup when going out. The tightly threaded design on the lid of the cup makes the thermos cup rotate upside down without leaking. Silicone non-slip cup bottom, concave and convex humanized design, safe and stable.
Instructions for Thermoflask
Before using the new product, it must be washed with boiling water (or add some edible detergent several times for high temperature disinfection.) 2. Before use, please preheat (or pre-cool) with boiling water (or cold water) for 5-10 minutes, In order to make the heat preservation effect better.
Please overfill the water in a hurry, so as to avoid scalds from overflowing boiling water when tightening the lid.
When drinking hot, please drink slowly to avoid burns.
It is not suitable to hold carbonated beverages such as milk, milk products and fruit juice for a long time.
After drinking, please tighten the lid to ensure hygiene.
Use a soft cloth and an edible detergent diluted with warm water when cleaning. Do not use alkaline bleach, metal vegetable cloth, chemical wipes, etc.
The inside of the stainless steel cup sometimes has some red rust spots due to the influence of iron and other substances in the contents. It can be soaked in warm water and diluted vinegar for 30 minutes and then thoroughly cleaned.
In order to prevent the generation of peculiar smell or stains, and can be used for long-term cleaning. After use, please wash it well and dry it sufficiently.